Timascus Kits (For Contoured Pup)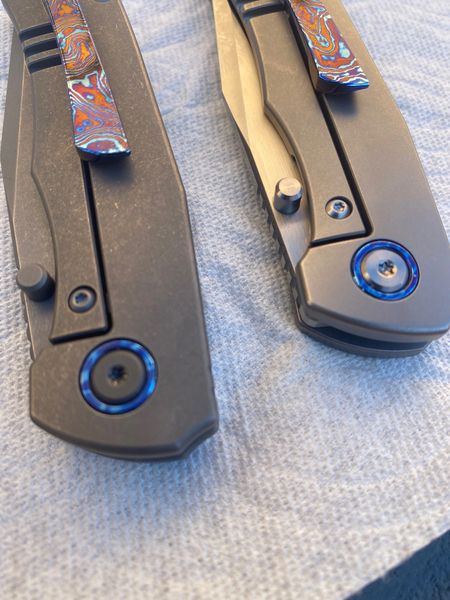 Timascus Kits (For Contoured Pup)
KIT COMES WITH SET OF PIVOT COLLARS, BACK SPACER AND POCKET CLIP
TIMASCUS MADE BY ALPHA KNIFE SUPPLY
PATTERN AND COLOR CAN VARY 
MACHINED TO FIT NEW PUPS, KNIFE NOT INCLUDED
IF KITS ARE PURCHASED WITH NEW KNIFE ORDER, MATT WESTBERG WILL INSTALL PARTS BEFORE MAILING. THIS MIGHT TAKE A COUPLE EXTRA DAYS.
IF YOU HAVE PREVIOUSLY PURCHASED A PUP AND WANT THEM INSTALLED PLEASE CONTACT SHOP.BERGBLADES@GMAIL.COM AFTER PURCHASING.
IF YOU PURCHASE AND INSTALL TIMASCUS KITS ON YOUR OWN, ITS AT YOUR OWN RISK. BERGBLADES WILL NOT BE RESPONSIBLE FOR WARRANTY OF ANY BROKEN OR DAMAGED PARTS, OR ISSUES RESULTING FROM INSTALL.
Reviews