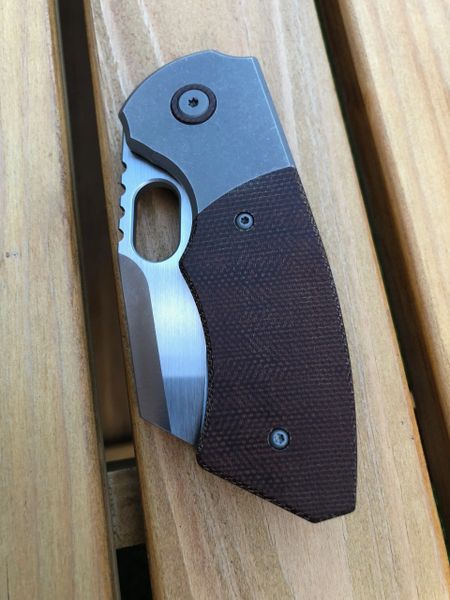 SLiM W/Brown Micarta
SLiM With Brown Micarta

Production Folder, Not handmade

This is a smaller version of the Golem, Great Edc Size.
Blade Steel: CPM S35vn
Blade Finish: Machine Stain Hollow Grind with Satin Flats
Handles: Titanium 6AL-4V with Brown Micarta 
Handle Finish: Blasted and Tumbled/ Micarta
Micarta can very knife to knife. Might not be exactly the same as picture.
Hardware: Titanium/ Micarta Pivot Collar
Bearings: Ceramic
Over travel and hardened lock face
OAL: 6.75
Cutting Edge: 2.65
Blade Thickness: .155
Scale thickness: .155
Total Thickness: .500
Total Weight:
SLiM folders are manufactured by WE knives

Bergblades will ship internationally for an additional charge. Item cannot be tracked once it leaves USA, Bergblades will not be responsible for package/Item once it has been shipped. 

BERGBLADES WILL NOT BE LIABLE FOR ANY DAMAGE OR INJURY AS A RESULT FROM USE OR MISUSE OF ANY BERGBLADES PRODUCTS. IT IS THE RESPONSIBILITY OF THEY BUYER/OWNER TO HANDLE THE KNIFE HE/SHE PURCHASES WITH CARE AND ITS INTENDED USE AS A TOOL.
Must be 18 or older to purchase and know your current state laws regarding knives.
No Returns or Cancellations on Pre Orders unless approved by Matt Westberg/Owner

Reviews